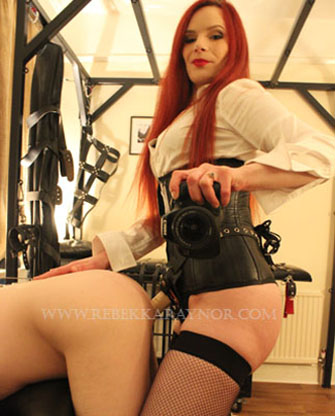 Rebekka & Joanne
Rebekka is a calm, calculating Scottish disciplinarian with over 15 years professional experience. I have been privileged enough to play in her chambers on a personal basis, and so it is from experience that I can say the following: she is a formidable and consummately skilled Dominant who creates beautifully executed, mind altering sessions. If your head is spinning from the possibilities, may I suggest that we would play particularly well together for sessions including -
Strap on & anal play: if you've ever wanted to be spitroasted or tag teamed by two ladies at once, now is your opportunity. Both Rebekka and I are very experienced strap on tops and relish the opportunity to thoroughly utilise an eager hole. Or if you've wanted to experience fucking and being fucked at the same time - this can also be arranged. Another configuration in mind? Just ask.

Sadism, impact, and corporal punishment: a lifelong fascination for me and Rebekka's primary interest. Be good for us and take as much as we want to give, compete with me to see who can take more strokes of her cane, or enjoy having a co-conspirator as you both put me through my paces.

Bondage, including predicament: Rebekka's chambers are fully equipped with cuffs, ropes, and plenty of leather. My collection only enhances hers. Some good options: you tied into a predicament with me; you bound and powerless in front of us both; having me as a helpless plaything for you and Mistress.

Roleplay: with three players, the options are endless. Interrogation roleplays are a particular point of intrigue, but please don't let that limit your imagination - whether it's two prison guards taking advantage of a hapless prisoner, a strict Headmistress disciplining wayward pupils, or something much more unusual and specific - we are unshockable and creative.
I provide all my regular services alongside Rebekka, including my submissive and Dominatrix services. While Rebekka does not engage in nudity, sexual services, or body worship (including foot worship & facesitting), I very much do, and enthusiastically at that. You may voyeur upon the two of us, co-top with her, suffer alongside me, or something altogether more intricate and switchy. If there's something on your mind not listed here, please do ask - there are far too many potential options to fully enumerate them.
Session with me and Rebekka from £350ph. Deposit mandatory.
See more of Rebekka on her Website
NB - the submissive featured in some of the photographs above is Eryn Rose, who is another personal friend available to join in pre-arranged sessions.